Fresh figs make absolutely delicious appetizers. Add in some savory ingredients such as goat cheese and prosciutto and you have an even better appetizer.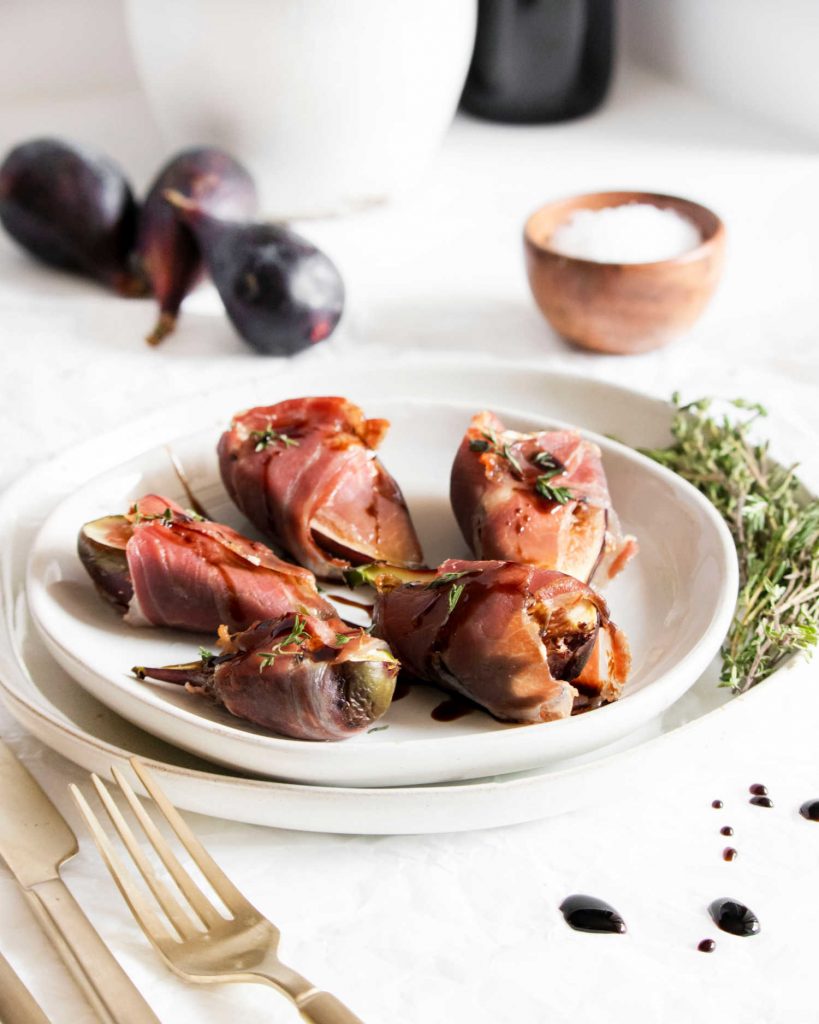 Brad and I moved almost two years ago and we have been missing our fig tree. We have plans to plant one in our front yard this coming spring, but in the mean time we have had to actually buy figs.
We have joked that we should go back to our old house and see if they'd let us pick them (especially after we did a house drive-by this summer and saw all the figs that had fallen off the tree).
It seems weird to buy figs when we were used to having so many available each summer, but it has been fun to try out different varieties.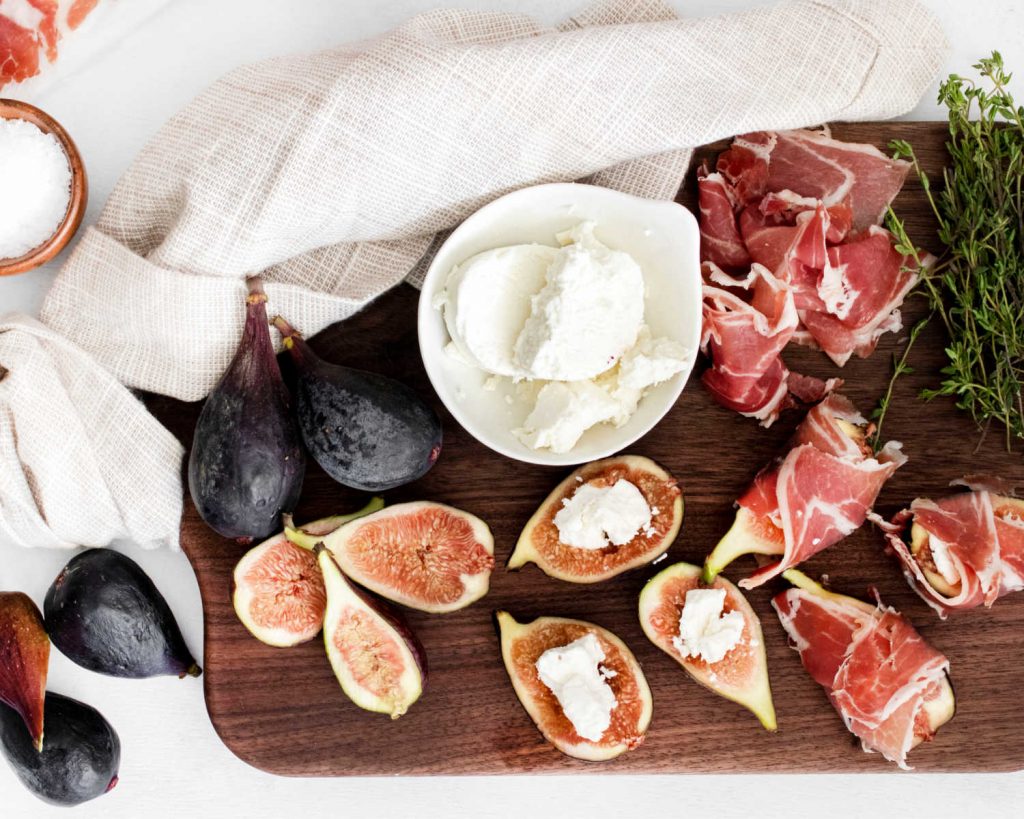 One of the best things about this fresh fig appetizer is that they can be made in large batches in advance and only take a few minutes to bake. Once parties return, these appetizers will be perfect to enjoy. Assemble the figs in advance and then simply broil them before guests arrive.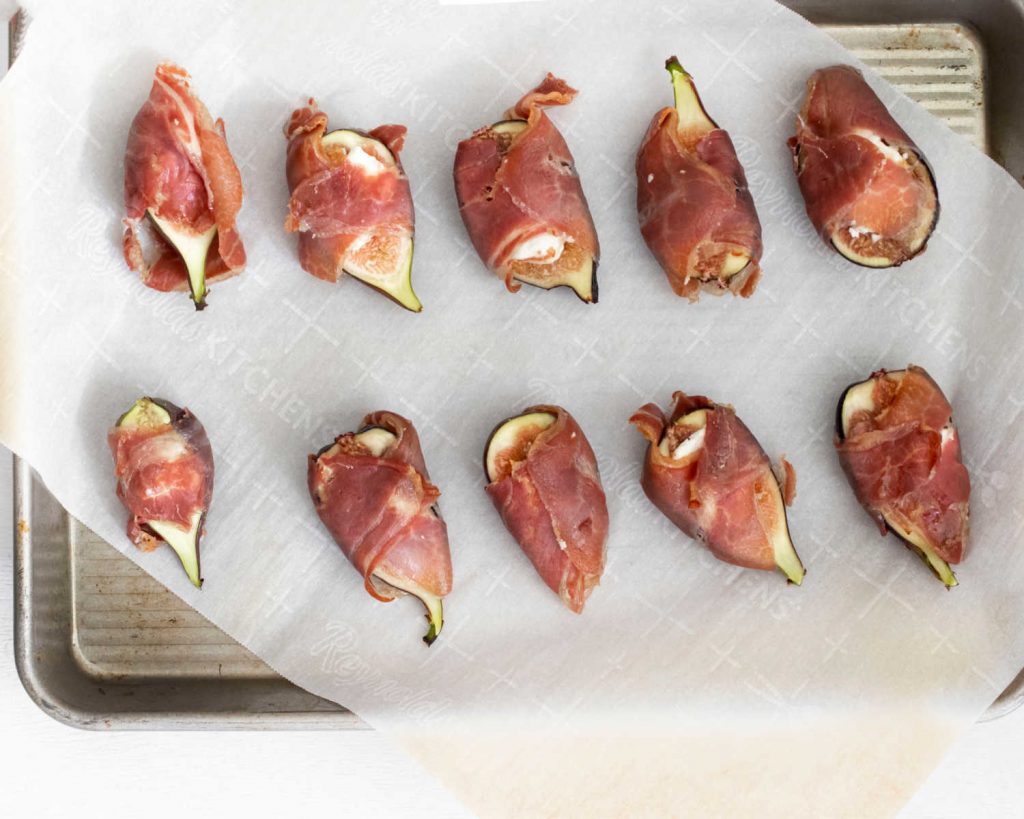 The goat cheese melts into the sweet fig fruit and the prosciutto creates a delicious blanket to hold everything together. Topped with thyme and sea salt adds one more flavor profile to level up this appetizer.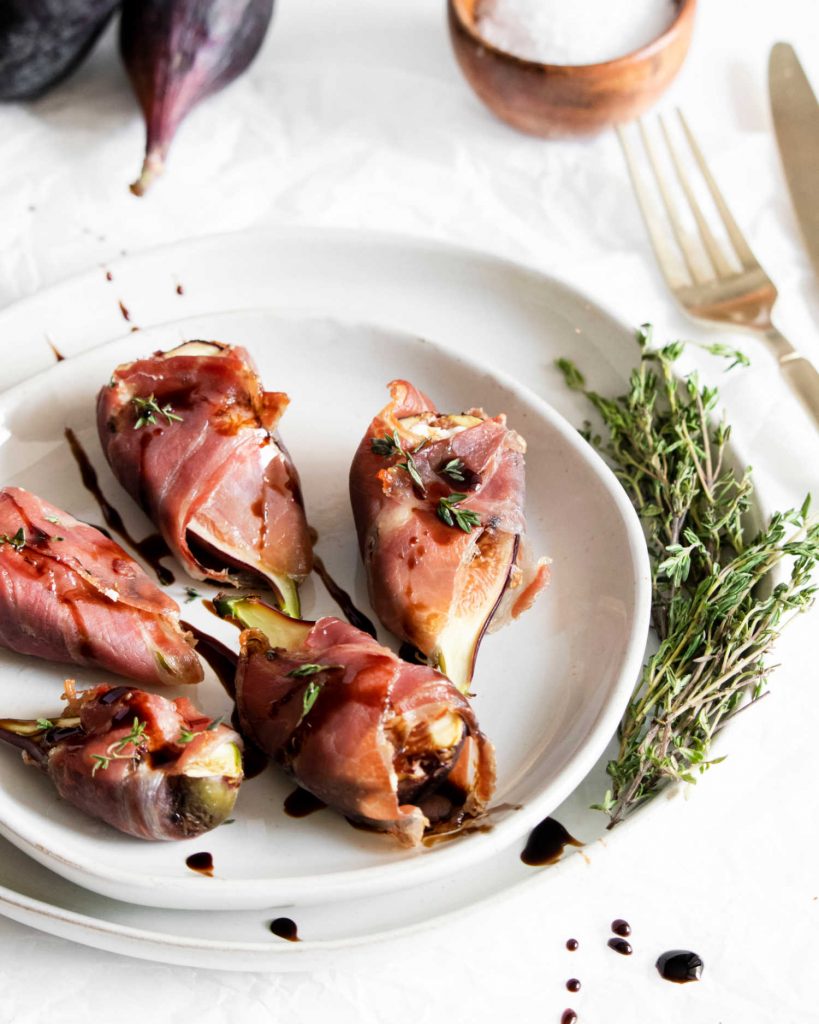 Fresh Figs with Goat Cheese and Prosciutto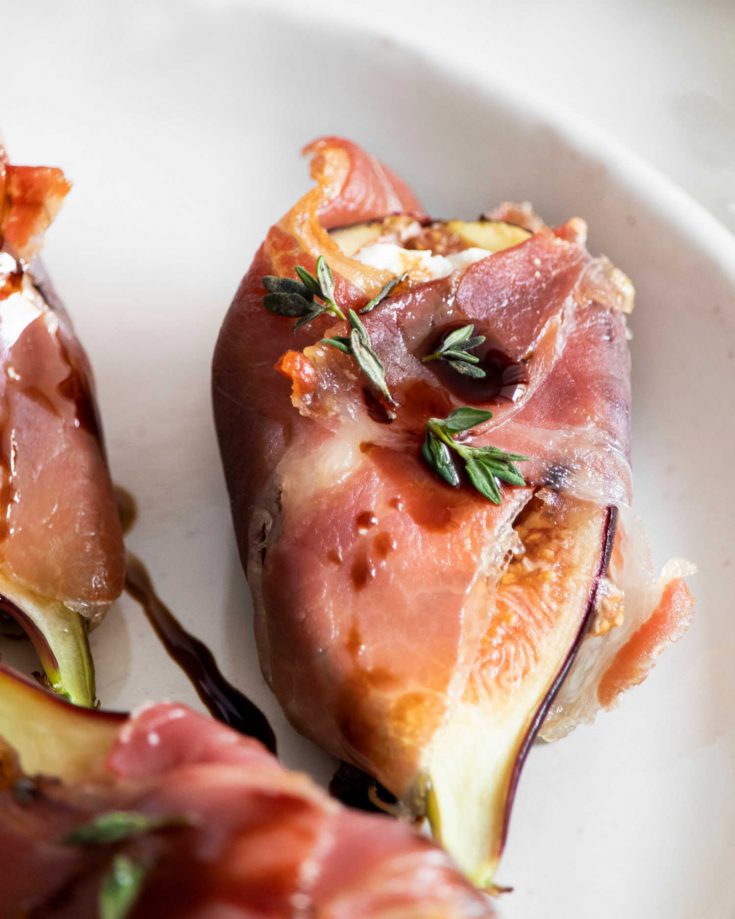 A delicious appetizer perfect for a party or to enjoy just because.
Ingredients
6 Figs
2 oz Goat Cheese - brought to room temperature
2 oz Prosciutto - sliced paper thin
1 tsp Fresh thyme - chopped
1 T Olive Oil
1 T Balsamic Vinegar
1/2 tsp Sea Salt (optional)
Instructions
Preheat broiler to high and line a baking sheet with parchment paper
Cut eat fig in half lengthwise
Cut each slice of prosciutto in half lengthwise
Place 1/2-1 tsp of goat cheese in the center of the fig. Wrap the fig with half a slice of prosciutto and place it cut side up on the baking sheet.
Repeat with the remaining figs
Drizzle the olive oil over the wrapped figs and sprinkle them with fresh thyme
Broil until warm - about 3 minutes
Top the figs with balsamic vinegar and sea salt flakes
Serve warm or room temperature. They can also be made up to 4 hours in advance and kept in the fridge until ready to broil
Notes
You can leave the stem on the fig as a handle or cut them off.
Nutrition Information:
Yield:
12
Serving Size:
1/2 Fig
Amount Per Serving:
Calories:

62
Total Fat:

2.3g
Saturated Fat:

1.4g
Cholesterol:

7mg
Sodium:

74mg
Carbohydrates:

6.3g
Fiber:

1g
Sugar:

4.7g
Protein:

2.8g
I can't wait until we can host a party to make these delicious fresh fig appetizers with creamy goat cheese and prosciutto. What is your favorite way to enjoy figs?